---
God loves the whole of creation!
Not everyone celebrates creation time, but for those who do here are some of our favourite ideas and activities for you! Our theme?
Shout out to God, all the earth.

Erupt with joy to the one True God!

Psalm 66:1 The VOICE
Let's explore with noisy joy our wonderful world and its Creator.
Here are some resources we love
With Respect in Creation by the United Church is a classic with lots of ideas of different ways to engage everyone actively in worship together. It is also action-oriented, so you take the time to learn about what's happening to creation and are invited to be active participants in its care.
Shanna, Selina and our friend Catherine designed a 5-week faith-at-home program in 2020 focused on different themes for each week. Check-out the PDF kit which includes activities, questions and colouring pages. (Interestingly enough, his project became the inspiration for our website!).
There are also lots of great resources found at greenchurches.ca and seasonofcreation.org.
---
Interested in learning more about ways we can care for creation in our crafting? Check-out Selina's article Creation Care & Crafting.
Is talking about creation and life cycles inspiring hard questions from your kiddos about death? Check out Shanna's article about death and dying.
---
Songs to Shout with Joy
Here are some favourite ways to sing our praise during this season of Creation.
---
Sensory Bins
A great way to celebrate Creation Time is by creating themed sensory bins! Wonderful for young and neurodiverse children. You can theme your bins after different places on earth (forest, desert, ocean, tundra…), the 7 Days of Creation, or do a DIY bin with items from a nature walk. Its also a fun way to talk about ecosystems and how different part of God's creation work together to make something amazing, like a pond, or a rainforest.
---
Celebrating the Whole of Creation
Using blue and green food colouring gel you can roll together sugar cookie dough to bake cute little earth cookies! There are lots of versions of this recipe out there but the process is more or less the same.
What better way to explore Genesis 1 than with jelly beans!
Selina put together this postcard with each "day" of creation and a corresponding jelly bean colour. Fill a baggie or jar with jelly beans and print-off a copy for your families.
Using old fabric scraps and a branch, families ca craft a ribbon tapestry for their homes. Or, using a large branch, make a giant version for your sanctuary!
Pair blue colours for a stream of living water (Isaiah 44:3), or using dark fabrics create a night sky you can add sparking stars to (Psalm 147:4).
We love recycling leftover craft supplies! Selina uses this string art as a metaphor for the web of creation, but it could also be an Epiphany star, spider's web or Christmas ornament.
Cut out any shape you like and create small cuts along the edge of your cardboard, wrap left over yarn or embroidery thread in a pattern or go wild! A little piece of tape can secure the string when you begin and by tying off the end you can create a hanging loop for display.
To explore the theme of "Water" Selina and Abby collected blue items from around the house to create a "river" of found objects.
You could try this with all different colours, and even make a rainbow (flashbacks to Art Attack, anyone?)!
Why not incorporate it into a Zoom party by having folks race against the clock to make their colour-coordinating display?
Selina created a Northern Ontario-friendly game of nature bingo for her community last year. It's appropriate for summer through to early fall and focuses on categories of flora/fauna instead of specific types (but the photos include species in NWO).
What are the animals and plants native to your area that you could include on a bingo-card?
Who in your community is a birdwatcher, trail guide, or gardener who'd enjoy talking to your kids about their local environment?
This activity is a bit more ambitious, but consider having a maker's afternoon where older church members can share their skills with the younger generation. Invite families to bring in old clothes and have children design their own stuffed companions!
A great way to explore our relationship with our animal siblings is by learning about and crafting a favourite animal.
Using popsicle sticks and leftover yarn weave your own turtle!
Turtles are the perfect opportunity to explore what "home" means. Where is your home? Who do you share your home with (people, animals, plants)?
You could also pair this craft with a story time exploring Creation stories from different faith traditions, like this Haudenosaunee Creation Story from the Oneida Nation.
Let your creativity run wild! Gathering found objects like branches and stones invite kids to paint, wrap with yarn, add glitter (the eco kind) to natural objects, or even to hole-pinch leaves to make eco sequins!
Discover your neighbours! What plants and animals are native to your area? What animals do you see in your neighbourhood or nearby? Are there animals you're seeing now that you haven't before? This can be a great opportunity for older and younger generations to discuss how your local environment has changed over time.
For those in Ontario the Guelph Arboretum sells affordable photo ID sheets for native species of beetles, butterflies, birds and more!
Leaf rubbing is a classic Creation Time activity! Consider using it to make a forest mural by cutting out your rubbings. You could turn that tree into a prayer tree by adding prayers for creation on each of your leaves
For older kids or a youth crowd, we tried out this project, of using leaves and other items from the garden or forest to make ghostly water colour prints. After doing a wet wash on the water colour paper, Shanna pressed some leaves onto the sheet, then added more colour around the edges. After it was completely dry it made an awesome effect in the negative space!
In the theme of a sensory bin, why not try your hand at some ephemeral art? You can see some work by amazing artists, but don't be discouraged! Have fun with what you can find–rocks, leaves, twigs, sand. Ephemeral art is also great because it offers us an opportunity to talk with children and youth about temporality (eventually all this will pass away). It reminds us to take good care of creation, to be mindful of the footprint we leave behind, and frees us to live well today.
Take a prayer hike/walk! Invite participants to contemplate a verse or question while they explore. Invite them to listen to the sounds of nature and to think about where they might encounter God in creation. Take some time afterward to share any feelings or reflections that might have come up during the hike. You could offer this as a series over Creation Time and invite folks to write in a prayer journal after each excursion!
This is also a great opportunity to talk about the ritual of pilgrimage and what it means to be transformed by the journey!
Or print one of these cute mini-colouring books!
Give some new life to old styrofoam before it's tossed out! Using forks, pencils and other items, create block-print posters in vibrant colours. (Perhaps these beauties might even get featured at your next church fundraiser?)
Create a painter's tape and paint spider's web! This can be used to talk about "home", i.e. the spider's home and all the hard work put into that place of rest, but also as an image for the web of creation!
Explore our relationship with nature by thinking about our relationship with plantlife. Where does our food come from? What kind of plants are native to our area?
Consider going on an Outdoor Plant Scavenger Hunt to learn about traditional medicines. This activity was designed by Cheryl Graham, Indigenous Support Worker, Brooklyn.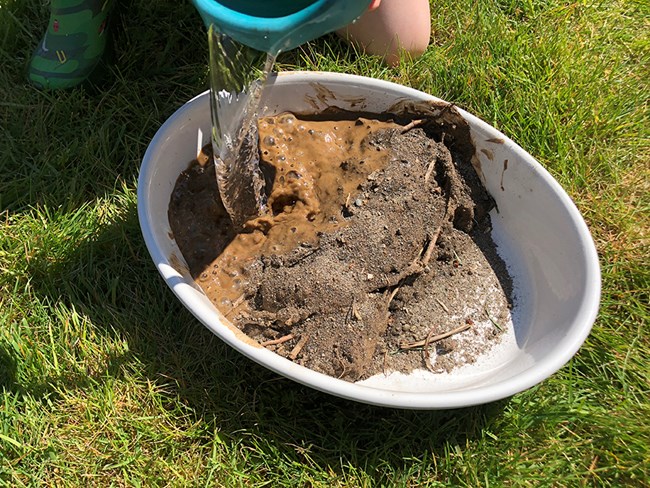 Build a beaver dam! Check out this cool tutorial from the National Park Service in the USA.
---
Colouring Sheets!
Check-out some of our Creation Time specific colouring pages.